Threaded Close Nipple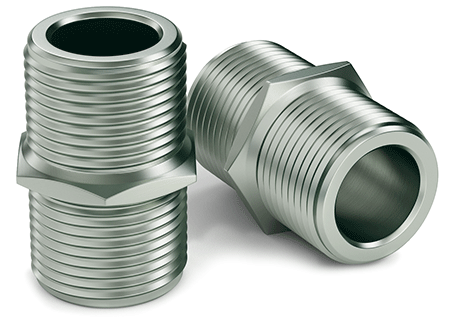 Sunmach is one of the leading Threaded Close Nipple manufacturer company.
This product is available in various forms and size. We also offer custom-made Threaded Close Nipple that has been widely appreciated by our clients. The main application areas of these Nipples are petroleum, metallurgy, shipbuilding and construction industries and also applicable in gas plants, power plants and chemical plants.
Nickel Alloy - 1/4" to 4" NB
Stainless Steel - 1/4" to 4" NB
Class - 3000Lb, 6000Lb & 9000Lb
Manufacturing Standard - ASTM A 182
Dimensional Standard - ASME / ANSI B 16.11
| | |
| --- | --- |
| Type | Grade |
| Nickel Close Nipples | 200 & 201 |
| Monel Close Nipples | 400, R-405 & K-500 |
| Inconel Close Nipples | 600, 601, 625 & 718 |
| Incoloy Close Nipples | 800, 800H, 800HT, 825, 925 & DS |
| Hastelloy Close Nipples | B-2, B-3, C-22, C-276 & X |
| Duplex Close Nipples | 2205 / 31803 |
| Super Duplex Close Nipples | SAF 2507, Zeron 100 & Ferralium 255 |
| Alloy 20 Close Nipples | Alloy 20 / Carpenter 20 |
| 904L Close Nipples | 904L |
| 254 SMO Close Nipples | 254 SMO |
| Titanium Close Nipples | Gr.2 & Gr.5 |
| Nitronic Close Nipples | 30, 50, 60 |
| Stainless Steel Close Nipples | 300 Series |